Conservation Commission
The Bennington Conversvation Commission was established in March 1989 for the purpose of conserving, protecting, and managing Bennington's natural and historic resources.
Our objectives are to protect and preserve sensitive water resources; conserve and manage Town lands; and promote awareness of the Town's natural and historic resources and the importance of sound resource management.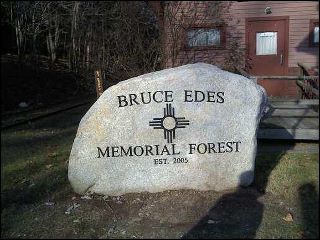 Entrance to the Bruce Edes Memorial Forest
November 2011
*Monthly meeting rescheduled:
The Conservation Commission will be rescheduling its regular third Thursday meeting to the fourth Thursday this month - May 23rd at 6:30 p.m. at the VFW.
Minutes